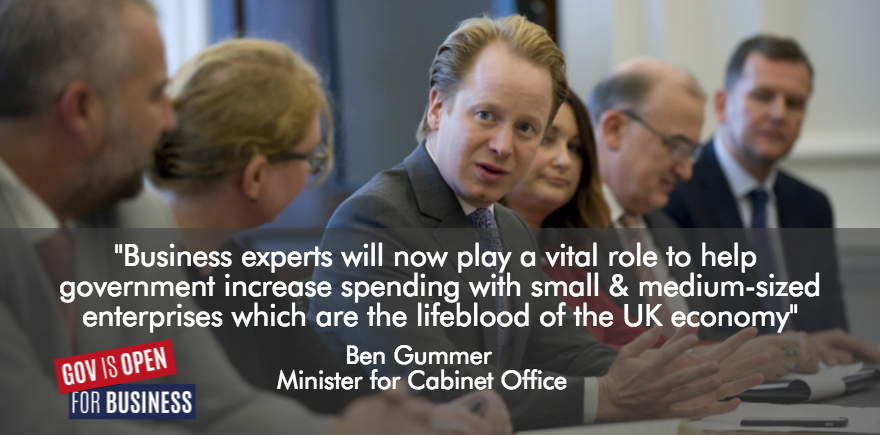 A panel of business experts from across the UK met for the first time earlier this week (Tuesday 15 November) under plans to boost government spending with small and medium sized enterprises.
The advisory panel, made up of 24 entrepreneurs and leading business figures boasting a wide range of experience, will work with the Government to ensure that by 2020 £1 of every £3 invested by Whitehall in goods and services goes to SMEs.

If met, the target would mean almost £3 billion of new business up for grabs each year, either directly or through the supply chain.
The Cabinet Office has estimated that 27% of government's procurement spending or £12.1 billion reached small and medium-sized enterprises (SMEs) in 2014-15, surpassing its target of 25%. An advisory panel supported this work and a number of its members are continuing to work government towards its aim to increase its spending with SMEs to 33% by 2020.
Ben Gummer, Minister for the Cabinet Office and Paymaster General, said:
"The business experts will play a vital role to help us increase spending with SMEs, which are the lifeblood of the UK economy. Government is firmly on the side of entrepreneurs and we will do everything we can to make their lives easier. That's why we have asked business experts to work with us towards our aim that £1 in every £3 of government procurement spending should go to SMEs by 2020."
John Manzoni, Chief Executive of the Civil Service and Permanent Secretary for the Cabinet Office, said:
"Government is open for business and wants to work with more smaller businesses across the UK. These 24 business experts from across the UK will help government improve the procurement process so it is simpler, clearer and faster for SMEs."
Leading entrepreneur Emma Jones MBE, the Crown Representative for SMEs, will work closely with the 24 experts to help more small businesses in the UK bid for and win government contracts.
Emma said: "Becoming a government supplier is a great way to make a difference to your business. Companies report an increase in their turnover, higher profits and an expansion of their workforce. In return, small and medium-sized enterprises offer innovation and value for money to government customers."
Caroline Brown, Managing Director of Caja, has been appointed to the panel. She commented:
"I'm going to use my experience as a government supplier to make it simpler and quicker for SMEs to bid government contracts."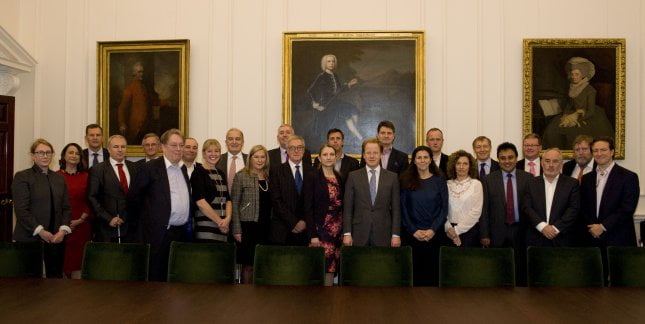 Notes
Businesses can register on Contracts Finder to search for government contracts worth over £10,000.
Find out more: www.gov.uk/openforbusiness #Open4Biz
Government is committed to working with more small businesses across the UK:
A simpler application process
It's becoming easier to become a government supplier. The government is listening to SMEs and making the application process quicker and easier.
Suppliers will be paid in 30 days
Payment and cashflow can be a problem for SMEs, so the government guarantees to pay all valid invoices in 30 days or less.
Resolve a problem
Problems with contracts, payments or concerns with the procurement process can be reported to the Crown Commercial Service (CCS) via the anonymous Mystery Shopper service.
| | | |
| --- | --- | --- |
| Applicant | Organisation | Location |
| Campbell McDonald | Baxendale | London |
| Graham Lancaster | TORI Global Ltd | Woking |
| Jon Kent | Zeco Energy | Newcastle-upon-Tyne |
| Rob Driscoll | Building Engineering Services Association | Kent |
| Francis Toye | Unilink Group | London |
| Elizabeth Vega | Informed Solutions | Cheshire |
| Ian Fishwick | AdEPT Telecom plc | London |
| Jonathan Lewis | The Live Group | London |
| Mark Jankovich | Delphis Eco | Battersea |
| Stephen Massey | SJM Specialist Security | London |
| Peter Woolaghan | REACT Engineering Ltd | Cumbria |
| Farooq Mohammed | es-p | London and Manchester |
| Tim Coleman | Abacus HR | Hampshire |
| Felix Lewis | CF Architects | Maidstone |
| Sue Waller | Knowledge Powered Solutions Ltd | Cheshire |
| Arnab Dutt | Dexo Technologies | Leicester |
| Stephanie Staubach | TopMarks Claims Management | Glasgow |
| Judith Hall | SmartSourcing | Staffordshire |
| Caroline Brown | Caja | Cheshire |
| Paul Edwards | P & S Automation | Essex |
| Mark Taylor | Lucas Fettes & Partners | Berkshire |
| Stephen Kingan | Nexor Ltd | Nottingham |
| Pamela Cook | Infoshare Ltd | Surrey |
| Hugh Griffiths | InZpire Ltd | Lincolnshire |